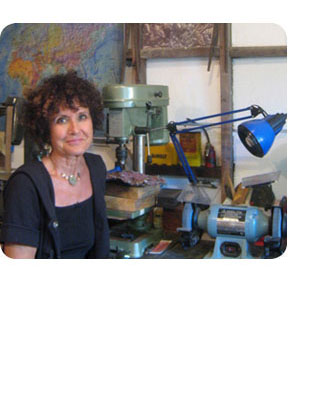 Charlene Modena – jeweler, enamelist, and mixed media artist – brings years of conceptual investigation, and technical expertise to her artwork. Her sculptures from the "Mandorla Series" illuminate a narrative flavor, a spirit of formal eclecticism, and the beauty of the mandorla as symbol. Exploring the compelling contrasts between form, essence, and abstraction, her most recent series "Endangered" is an eloquent observation of the losses in the natural world. Handmade paper, iron, wood, neon, gold, copper, silver, gemstones, and beeswax are all balanced as a celebration and reflection of her highly individual aesthetic and an acknowledgment of the harmonious synergy of the human hand in object making.
Ms. Modena's work has been exhibited and collected nationally and internationally. Collections include Xerox International and Ann Rockefeller Roberts. She is included in World's Who's Who of Women, and Foremost Women of the 20th C. Publications include Design Magazine, Metalsmith Journal, Ornament Magazine, American Crafts, Lark books 500 Pendants and Lockets, and 500 Plastic Jewelry Designs.
Charlene works on her large mixed media sculptures and one of a kind jewelry at her studio in Muir Beach, California, a small northern California coastal community where she also resides.
NEW (April 2013) Juried Award from The Ueno Royal Museum in Tokyo,: 26th annual International Cloisonné Jewelry Contest, 2013; Selected for exhibition and Award of Encouragement. "Endangered Earth" Brooch: Raku enamel on copper, with sterling silver, black coral, antique piano key ivory with sterling silver pique' inlay. 3 1/4 x 1 3/4. (see Jewelry & Enameling #JE23)